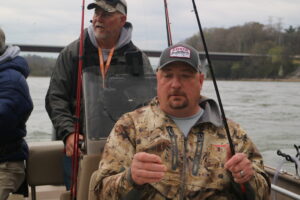 Bo Rice is a professional guide, you will catch more fish than you can imagine. Bo and his staff are available year round. They fish daily, including weekends and holidays.
Our Story
Bo Rice was born in Gaston County December 6th 1971.  He is a graduate of North Gaston High School (Class of 1990).  During those years Bo enjoyed fishing on the South Fork River.  He won his 1st fishing tournament at the age of 11.  All though he was a very successful tournament fisherman in stripers and catfish, Bo's love for being a guide and teaching others to fish grew.  He loved watching the excitement of others catching their 1st fish or maybe their 1st trophy fish.  This brought him more joy than winning any tournament.
His biggest catches have been a 77 lb. catfish and a 61 lb. striper. The largest catch in terms of pounds on one trip was a little over 700 lbs. which was a great day!  Bo has a 24′ SEA ARK center console and he can accommodate up to 4 people.  The BO Team has more boats/guides if needed.  Bo and The Team are both certified captains with US Coast Guard OUPV and TRUECS-340 in a vessel up to 100 tons.
Fishing with Bo is more than just a single day experience.  Bo offers accommodations at the Bob & Todd Fishing Lodge, which is fully equipped with a kitchen, bed and bathrooms, den and comes with fresh linens.  They even have a fish cleaning area where you can clean your own fish or Bo will clean them for you for a small fee.
Bo has been featured on several fishing shows.  The one he is most proud of is taking the great Hank Parker fishing and to see him catch the biggest striper he had ever caught. That show  aired  in January 2014 on Hank Parker's Outdoors.
Call us today and book a trip with your family.  We can make this a total experience for everyone, especially when you connect up with us at the lodge
Give Us a Call to catch your limit
828-238-5269