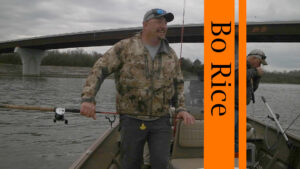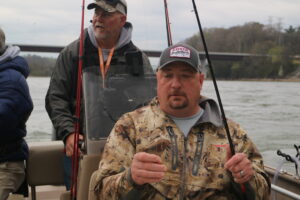 Bo Rice is a professional guide, you will catch more fish than you can imagine. Bo and his staff are available year round. They fish daily, including weekends and holidays.
BO RICE                                       
Bo is a certified captain with US Coast Guard OUPV and TRUECS-340 in a vessel up to 100 tons. He has a 24' Sea Ark that can accommodate up to four people in one trip.  He has a passion for fishing and helping others make a catch of a lifetime.  Bo is very proud of his biggest catches, a 77-pound catfish and a 61-pound striper. And the trip where his catches exceeded 700 pounds! Another proud moment for him was taking the legend, Hank Parker, fishing and watching him catch the biggest striper he had ever caught. Bo has been fortunate to appear on several Hank Parker shows. The first one aired in January 2014 on Hank Parker's Outdoors and the latest show in March 2021.
Bo started with humble beginnings, just a small-town guy from Gaston County, NC who enjoyed fishing on the South Fork River.   He won his first fishing tournament at the age of 11 years old and continued to compete in tournaments throughout his teens and began teaching others about fishing.  Bo's love for being a guide and teaching others how to fish, and seeing their faces light up when they catch a 50 pounder is what brings him joy! He started guiding with a small boat, few rods and reels and many friends and family that believed in him. From staying in hotel and camper to providing Bob & Todd's lodges for customers, Fishing with Bo was born!  In 2021, Bo was blessed when his son, Trey, decided to join the business. Now father and son can work together to help others build memories and make a catch of a lifetime!
Fishing with Bo is just what it is, come fish with small town country boys, who know their stuff, can find the trophy fish, and give you good time while doing it!
You won't know till you try it for yourself, so come join them!
Call us today and book a trip with your family.  We can make this a total experience for everyone, especially when you connect up with us at the lodge
Give Us a Call to catch your limit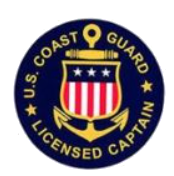 828-238-5269